WELCOME TO THE OOLALA COLLECTION CLUB
The Oolala Collection provides proudly South African result driven Aesthetic, Genderless skincare for all skin types, formulated for those who care as much about their wallet and well-being as they do their image. We deliver affordable luxury vegan, cruelty free and paraben free skincare with the latest actives and peptide technology. The Oolala Collection has created skincare with integrity from a consumer's perspective.
Now You Have A Choice To Consume Consciously
The Oolala Collection is backed by Beauty Without Cruelty and VeganSA. If you're thinking we've replaced effectiveness with ethics, you'll be excited to know our range is the leader in cutting-edge luxury and healthy skincare. We offer innovative products that are gentle on the skin with effective formulations and no-frills packaging and leaving behind just the ingredients that work. The Oolala Collection Club is all about beauty with brains and a heart. We believe in self-love, looking after our health, encouraging open conversations and creating positive change. Our ethics drive our recommendations, not our bottom line.
Advanced Aesthetic Skincare
Whether you're looking for the best anti-ageing products to target those fine lines and wrinkles, or you need a solution to adult acne or dry, flaky skin, the Oolala Collection has it all. Each product in the range is designed to meet specific skincare needs, from dry to oily and combination skin types, pigmentation problems to teenage breakouts. We are proud to say that The Oolala Collection range stands in a class of its own and the results of our products speak for themselves. Our promise to you, our consumers is complete honesty, consistency and transparency. It's as simple as that. The market is saturated with false labels and empty promises, the beauty industry needs a makeover. We are here to deliver it to you straight!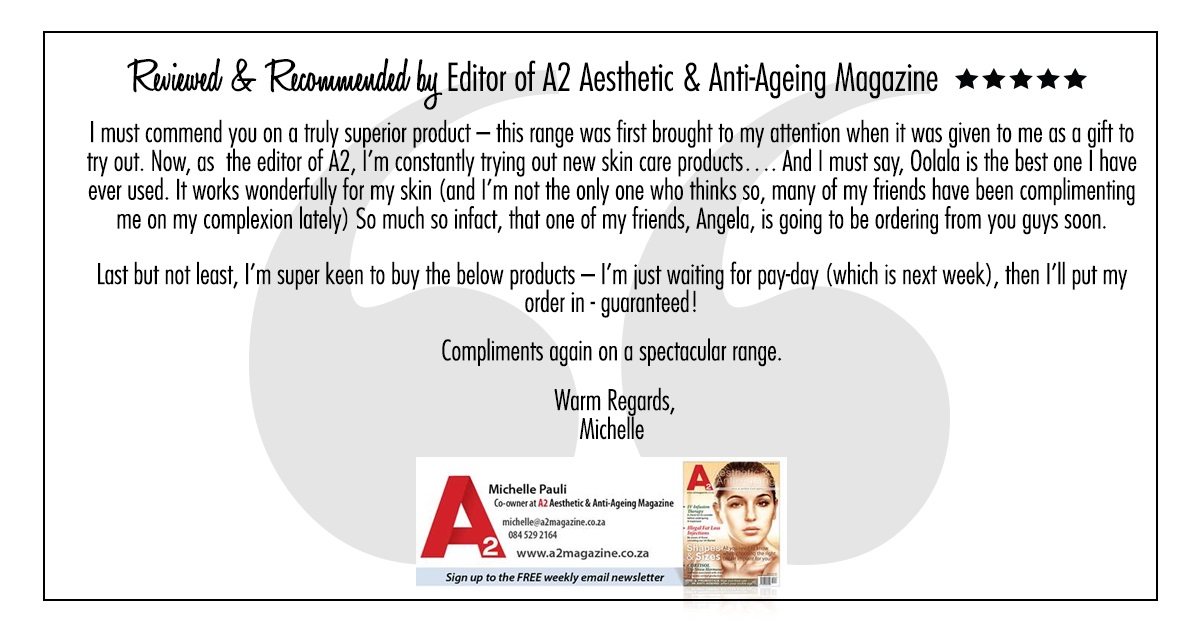 Reviewed & Recommended by Editor of A2 Aesthetic & Anti-Ageing Magazine
Beauty On Demand
Our aim is to create a personalized online shopping experience which is simple and affordable. Our eCommerce platform allows you to find your customized skincare solution in a matter of minutes! So, no need to wait or queue, just click and purchase online. Our OolalaBOT is here to answer all your questions and to guide you through the process, your own personal shopper.
We ♡ Our Planet
The world is our source of beauty and is facing devastation. As a brand we understand that there is an impact with everything we do. We want our environment to be clean and healthy not only for this generation, but for future generations. A clean planet means a healthier environment for us to live in…better for our health and our well-being.
In order to show we care, we have created clean cutting edge products that focus on preserving and protecting the environment. We have done this by eliminating the use of boxes and making all our products recyclable. We strive to make small efforts that show our respect to the planet, the importance of sustainability and minimizing our carbon footprint.
We stand for more than just the bottom line.
100% Vegan. 100% Cruelty free. 100% Paraben Free. 0% Questionable
Now that you know our story, it's time to explore the story of your skin.
We are The Oolala Collection Club! #AestheticSkincare
Join us!